Google Expeditions
Google Expeditions
7 April 2017 (by admin)
We were lucky to take part in the Google Expeditions Pioneer Programme.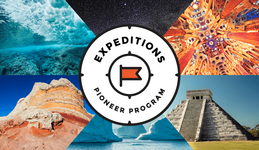 Children in classes from Y1-6 had the opportunity to use virtual reality headsets and explore the globe (and beyond) using the Google Expeditions app. Everyone had a fantastic time. At home, children can continue to learn about the world using this fantastic app, which is free to download on Apple and Android devices. More information can be found on the Google Expeditions website (see below). The app can be used on its own or with a virtual reality (VR) headset. Templates of the cardboard versions that we used are available to download online.
Photos of the day can be found on the Computing page.