At the end of each year, we normally have our open afternoon where you can look at your child's work and talk to their teacher. We also ask for your feedback about your child's year at George Washington. We still want to hear your comments so we would appreciate it if you could spend a couple of minutes writing your comments in the survey below.
Hello reception!
We hope you have had a lovely weekend. Can you believe we only have two weeks left until the summer holidays? We have planned lots of fun activities for you to complete this week.
You will find this week's learning tasks below.
We loved seeing the fantastic work some of you sent to our new email address last week. We can't wait to see more. This week, we would like you to email us Wednesday's English task. More details of the task and where to send it to can be found in the English section further down the page. We were very proud of the work we received last week. Well done and keep up the fantastic work.
Sending big hugs,
Miss Owens, Mrs Pearce, Miss Maher and Mrs McMann
xxxx
Home Learning Activities
See below for more information and resources for each activity.
Daily Activities
Try to do these activities each day:
Write your full name
Practise the correct formation of our letter of the week
Read a book
Practise your sounds and tricky words
Count to 20 and back to 0

Do some exercise

Get some fresh air
Be Active
Here are a few exercise videos we think you will enjoy.
Mindfulness
If everything is getting a bit busy, frantic or stressful, we enjoy spending time listening to mindfulness stories in reception. Here is one we think you might enjoy.
Phonics
This week we are using the sounds we have learned over last few weeks to read and write words and sentences.
Follow the same pattern for your phonics session each day:
Recap the sounds you already know using the sound mats or the flashcard videos at the bottom of the page.
Practise writing the letter of the week
Practise reading your tricky words
Complete one of the activities below
Letter of the Week
Our letter of the week is 'p'. Practise the correct formation using the video below to help. Once you can form it correctly try writing some words containing the 'p' sound and letters children have already learned to form correctly e.g. pan, pin, pat, pain and parrot.
Activity One - Play Tricky Word Hopscotch
Today we would like you to practice your tricky words. Can you use some chalk to make your own tricky word hopscotch? Take a look at the picture below to give you some ideas.
Activity Two - Writing a Sentence
Look at the picture below and write a sentence to match it. Try to include one of your tricky words from your pot.
Remember to:
start with a capital letter
sound out words
use finger spaces
use a full stop at the end of the sentence
Parents/Carers: Suggested sentences – The chest is full of coins.
Activity Three - Pirate Tricky Word Hunt
Take a look at the picture below. Can you write out your tricky words on some pieces of paper or use your tricky words from your pot. Once you have finished writing your tricky words, ask a grown up or sibling to hide around them your house. Can you create a tricky word checklist and go on a treasure hunt? You could use the telescope you made on Monday to help you find the missing tricky words.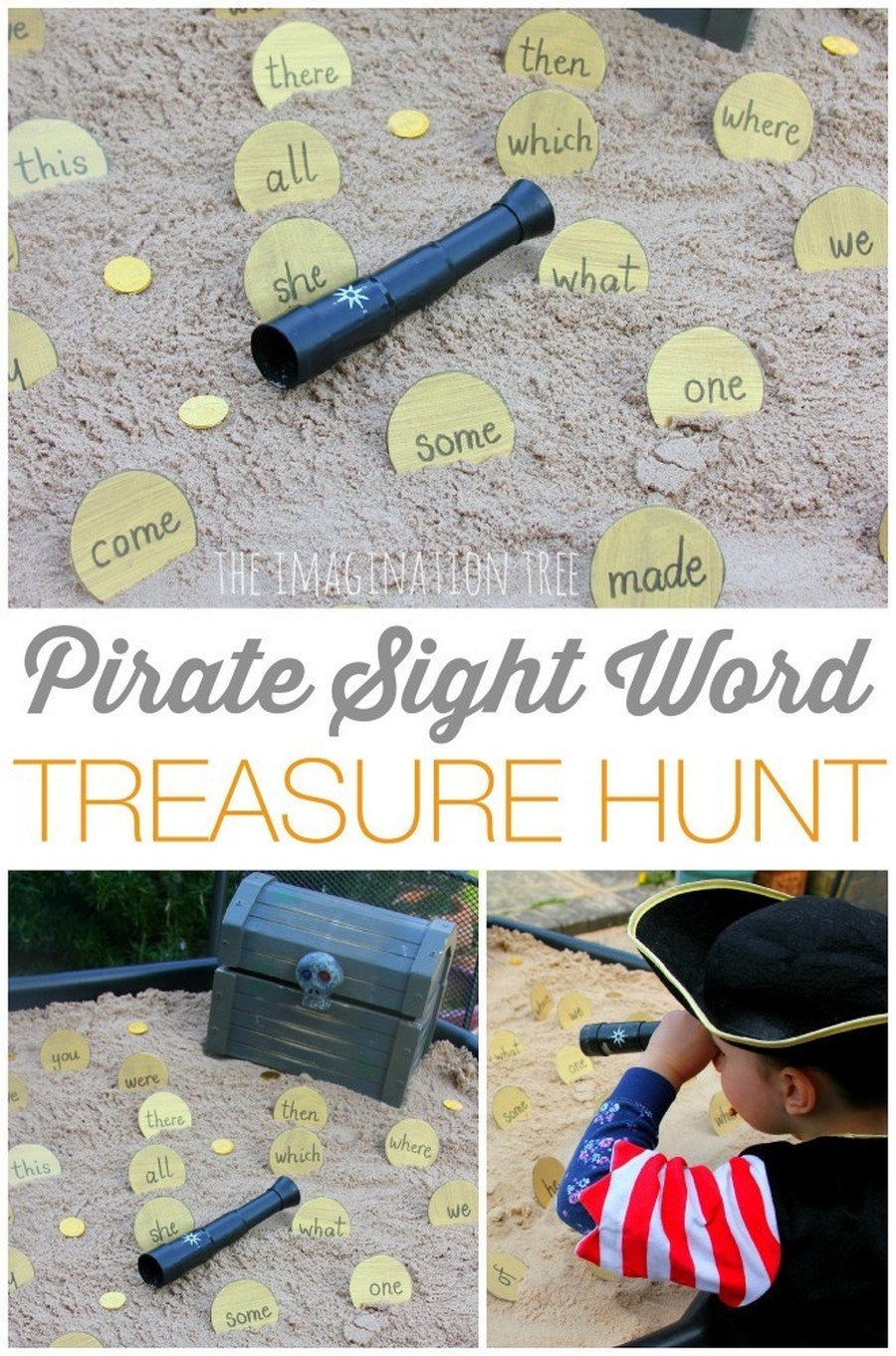 Activity Four - Write the Missing Sounds
Take a look at the picture below. All of the words are missing sounds. Can fill in the missing sounds?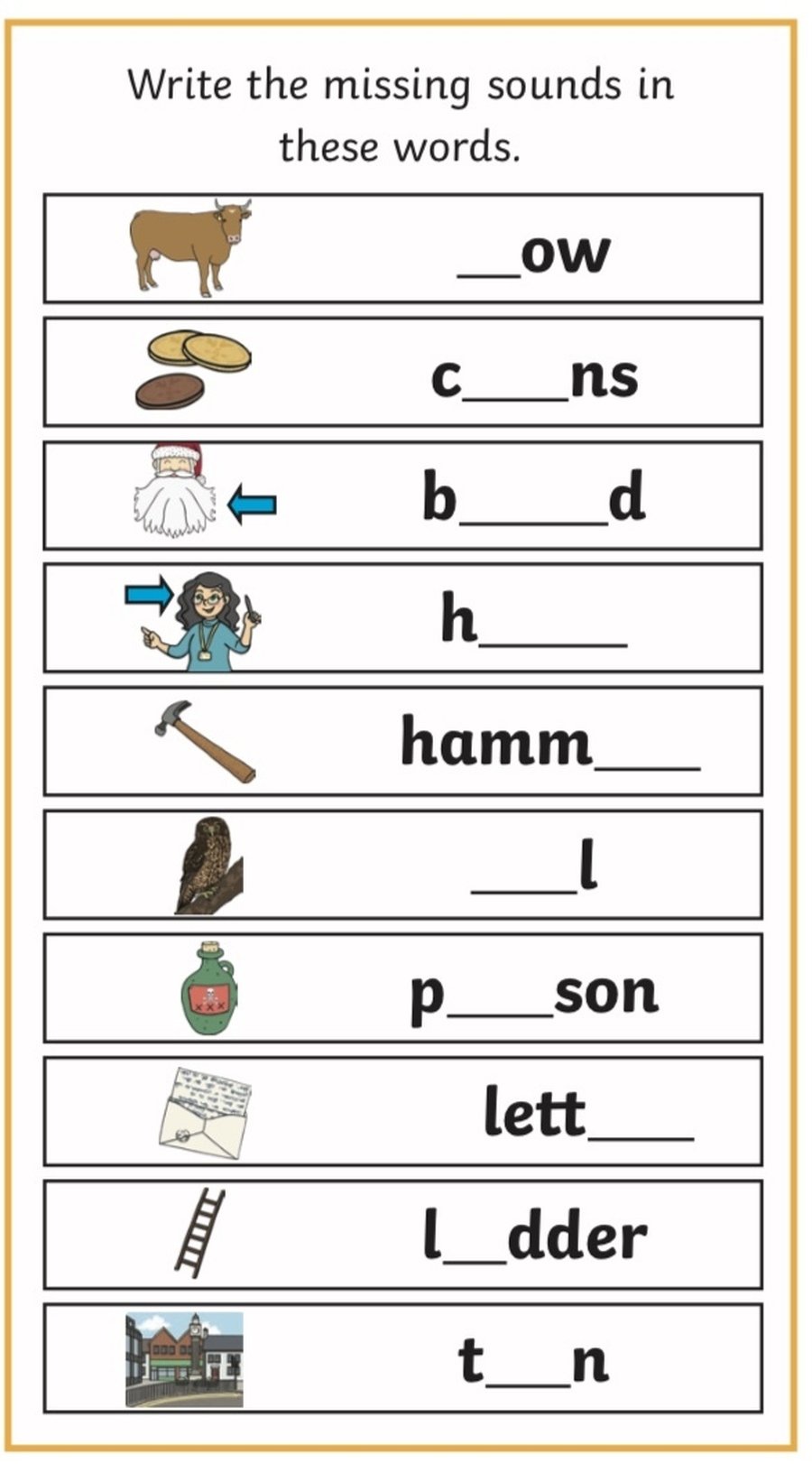 Activity Five - Play Buried Treasure
Click on the link below to play Buried Treasure. Can you help the pirates you put the real words in the treasure chest and nonsense words in the bin?
https://www.phonicsplay.co.uk/resources/phase/2/buried-treasure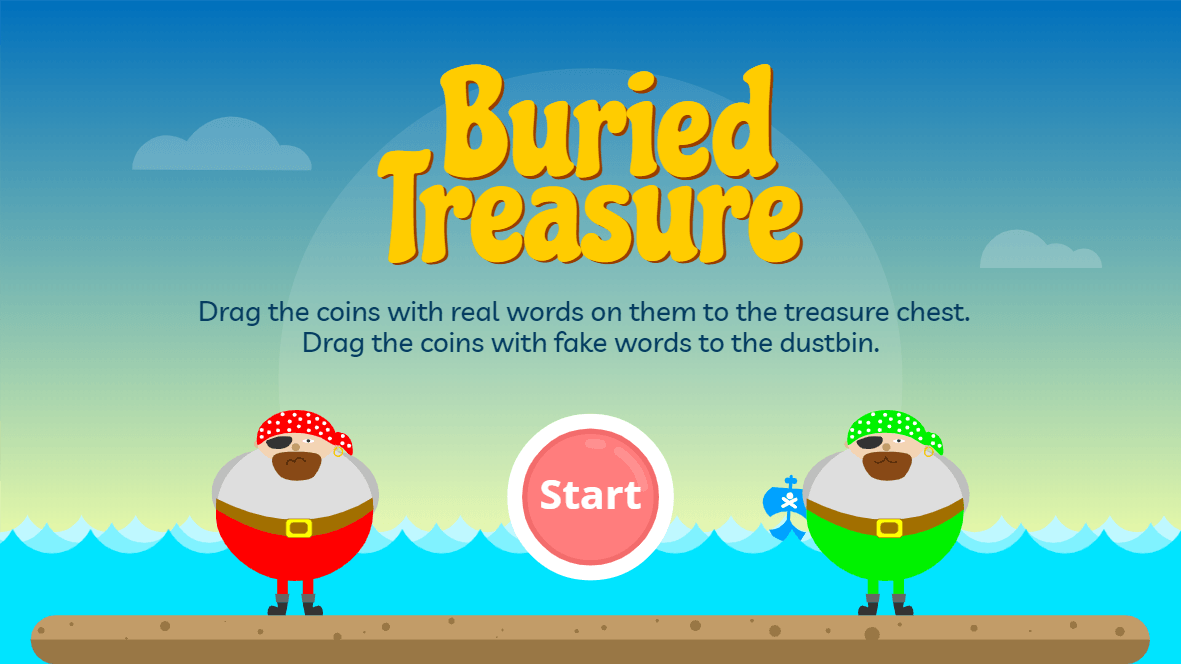 English
Advice about writing for parents/carers:
Children can use their sound mats to help them when they are writing.
Encourage children to look at the picture and say the sentence they want to write out loud.
Say one word at a time and encourage them to sound it out, copy from the word mat or write from memory if it is a word from their tricky word pot.
Encourage children to use their finger to make a space between each word. If your child is left handed, this may be tricky. You can use a spare pen or pencil, lolly pop stick or even cut out a finger shape from a piece of paper to use instead.
Children may use the wrong sound to spell some words as they may include sounds they have not been taught yet e.g. 'ait' instead of 'ate'. This is ok. You could show children the correct way to spell the word if you like.
Some children will not be ready to write sentences yet. You could take turns to write the words or children could write the first sound in the word and you could write the rest if they are finding it difficult.
Monday
Read or listen to Pirates Love Underpants by Clair Freedman using the link below or your own if you have got a copy in your home. You could ask:
Have we read another story similar to this?
What do pirates usually love?
What do pirates wear?
What do they travel on?
What do they use to find where they want to go?
Where do they usually find treasure?
Tuesday
In the story the pirates love underpants. Can you write a list of other things pirates like? Take a look at our example below.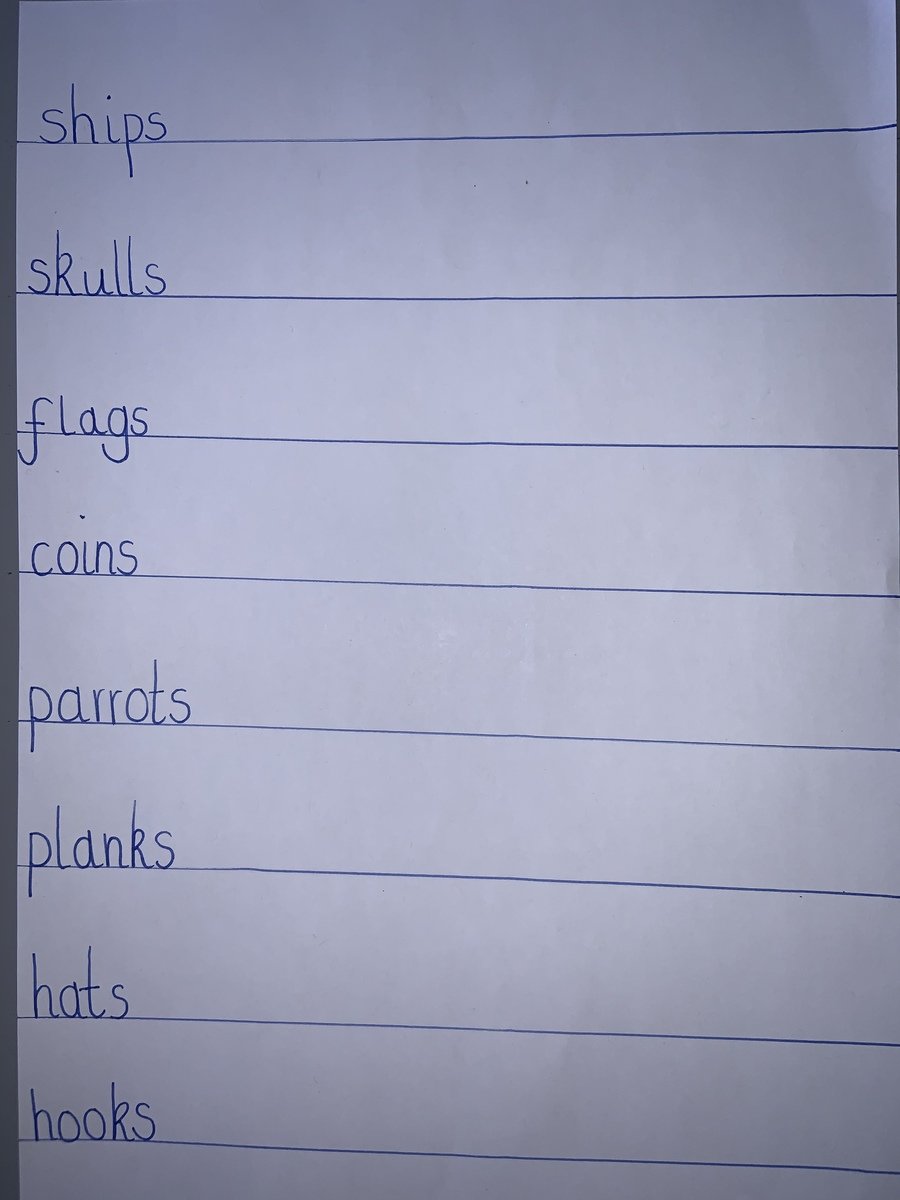 Wednesday
We need your help reception! In the story the pirates took the golden underpants. Can you make a wanted poster to find the pirate who stole the underpants? Look at our example below to give you an idea of what it could look like.
We have included a template below, you can use it or create your own.
We would love to see how you get on. Send this piece of work to our email address:
Miss Owens and Mrs Pearce will look at it and send a special message back
Thursday
.
Take a look at the pictures below. Can you make your own treasure map? Draw the different locations or objects in the story Pirates Love Underpants. For example:
Big Knickers Bay
Three Pants Ridge
Long John Bridge
Caves
Golden Underpants
Once you have made your map can you label the different areas on your map.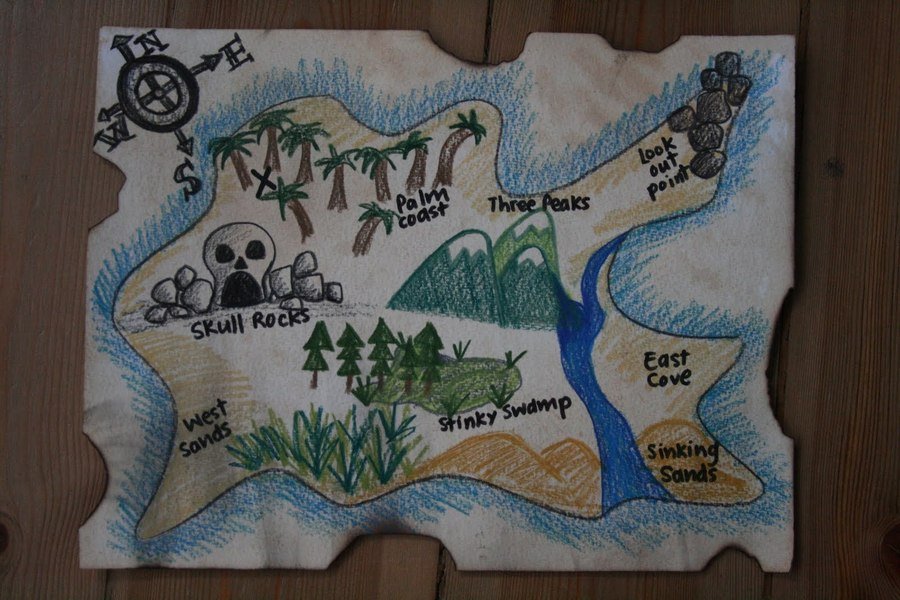 To make your treasure map extra special, you could tea stain your map. Watch the video below to tea stain your map.
Friday
In the story all of the pirates have different patches. Today we would like you to get creative and design your own pirate patch. Can you write some sentences about your patch? Take a look at Miss Owens' pirate patch below.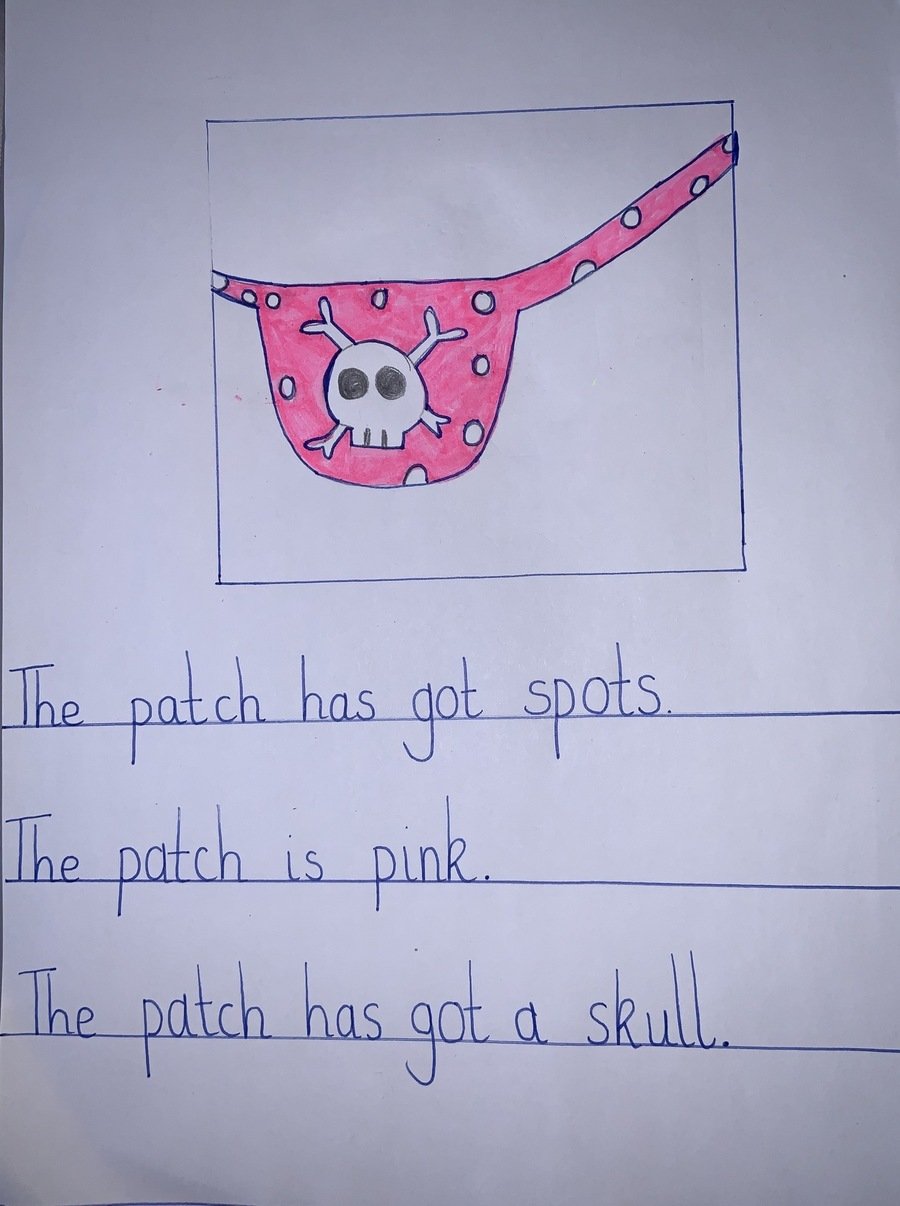 Monday
Can you remember how to count in 2s? Watch the video below to remind you how to count in 2s.
Now, we would like you to solve these counting in 2s problems. Draw the objects in the pictures and count in twos to work out the answers.
Remember to check your numbers to make sure they are the right way round. You could use your number line from your pack to check your numbers.
Tuesday
We were counting in 2s yesterday, today we are going to be counting in 5s. Can you remember our counting in 5s song? Sing along to the counting in 5s video below.
Today we would like you to use your counting in 5 skills to work out the answers to the picture below. Can you draw the pictures to solve the problem? You could use real objects to help you.
Wednesday
Today we are going to count in 10s. Watch the video below to remind you how to count in 10s.
Can you use the worksheet below to count in 10s and order number 10-100.
Simplification: If ordering numbers in 10s is too difficult for your child, they can order numbers 1-20.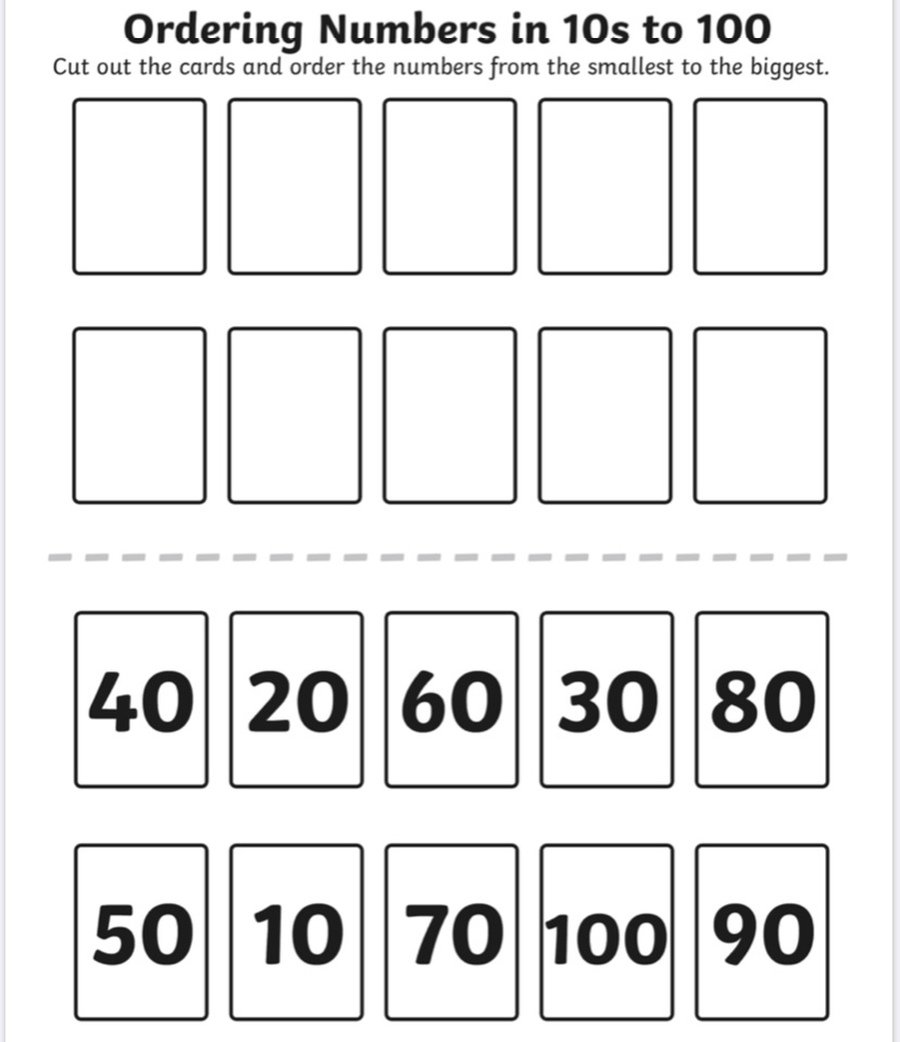 Thursday
Today we would like you to count in 2s,5s and 10s to count how much money is each jar.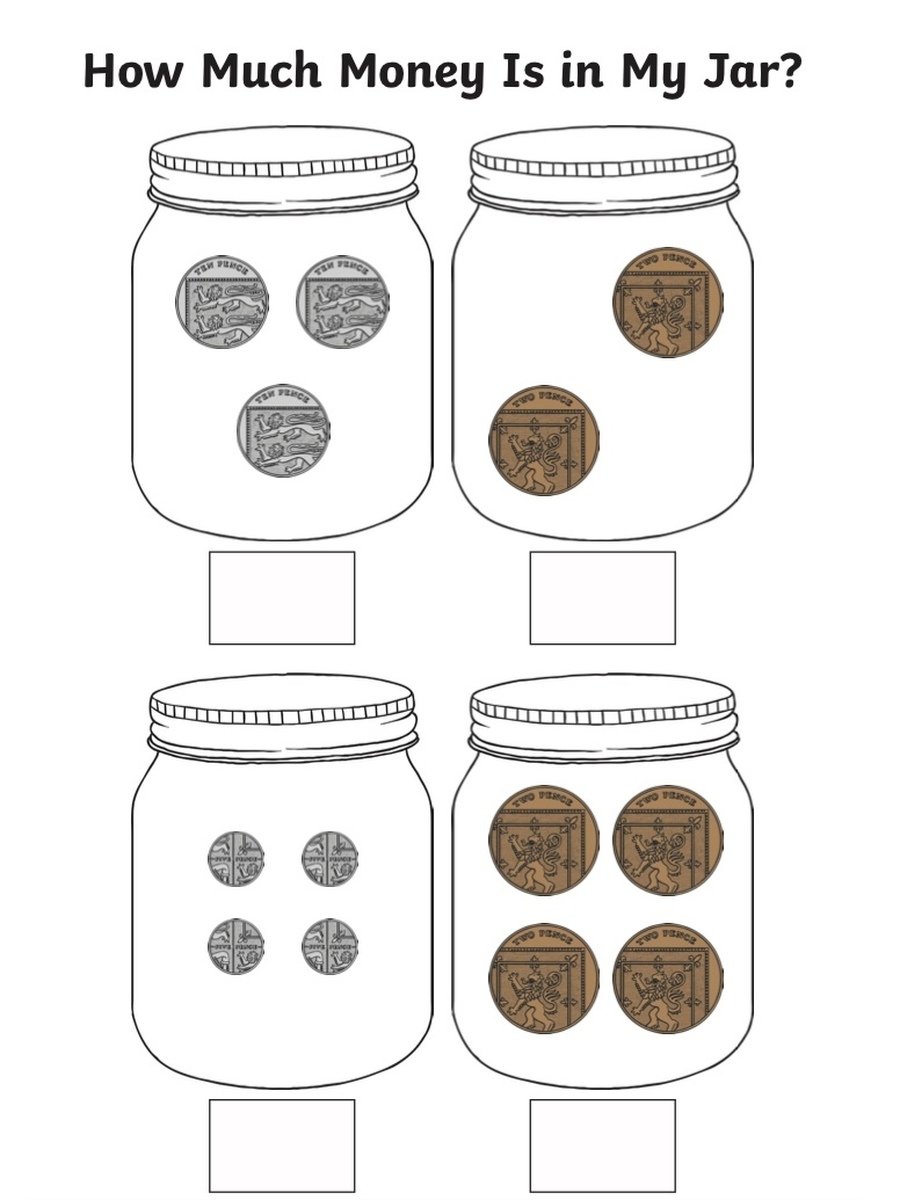 To help you, you use real coins to work out the answers.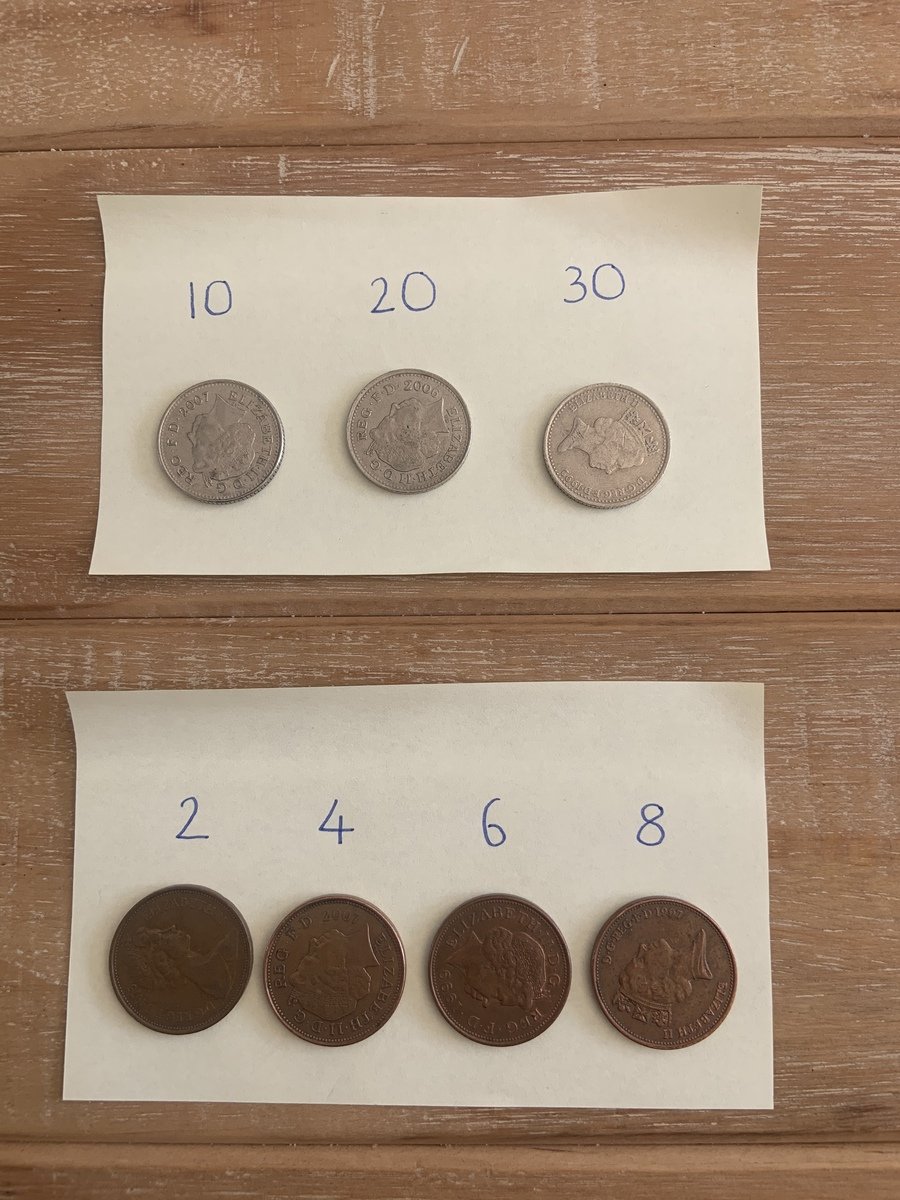 Friday
Click on the link below to play Caterpillar Count. Can you order numbers 1-20?
https://www.tvokids.com/preschool/games/caterpillar-count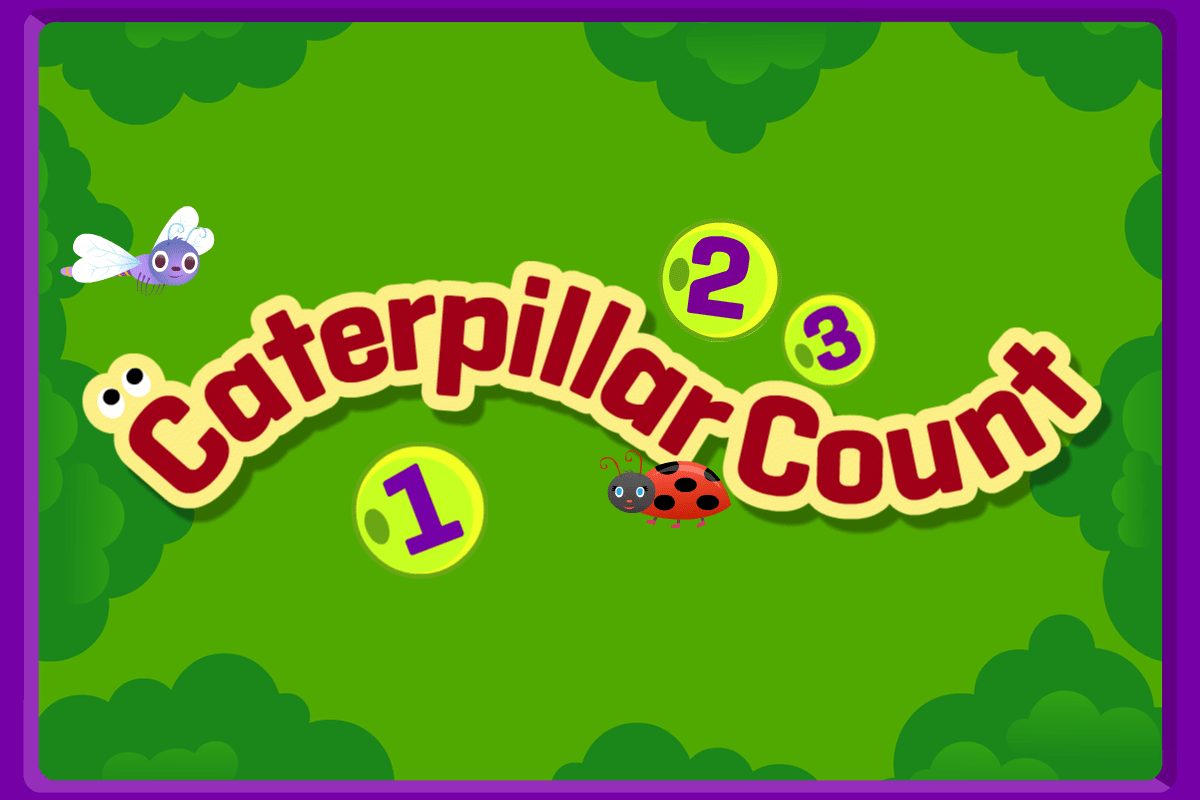 Monday
All pirates need a telescope. Today we would like you to create your own telescope. Take a look at some examples below.
For this activity you will need:
Kitchen roll tube (you could also use a pringles can)
Pens/paint or pencils
Collage materials (recycled materials from around your house) to decorate your telescope
Once you have made your telescope you could use it to play I spy with your grown up or sibling.
Tuesday -
Tomorrow afternoon you will making your own life-sized pirate ship. All pirate ships need a flag. Today we would like to make your pirate flag to attach to your ship tomorrow. Take a look at some pirate flags below.
You could use the template below to plan your design before making it.
Wednesday
Today we would like you to design your own pirate ship. Tomorrow you will be using materials and objects from around your house to build your pirate ship. Take a look at the PowerPoint below to find out about the different parts of a pirate ship.
Use your design to go on a hunt around your house to collect the materials/objects you need to build your pirate ship. Below are some materials you may want to use...
Thursday
Today is the big day our fellow pirate friends. We would like you to use the objects/ materials that you collected yesterday to build your pirate ship. Take a look at the pictures below for some ideas. You could build your ship inside or outside.
Don't forget to attach the flag you made on Tuesday.
We would love to see some pictures of you in your pirate ship.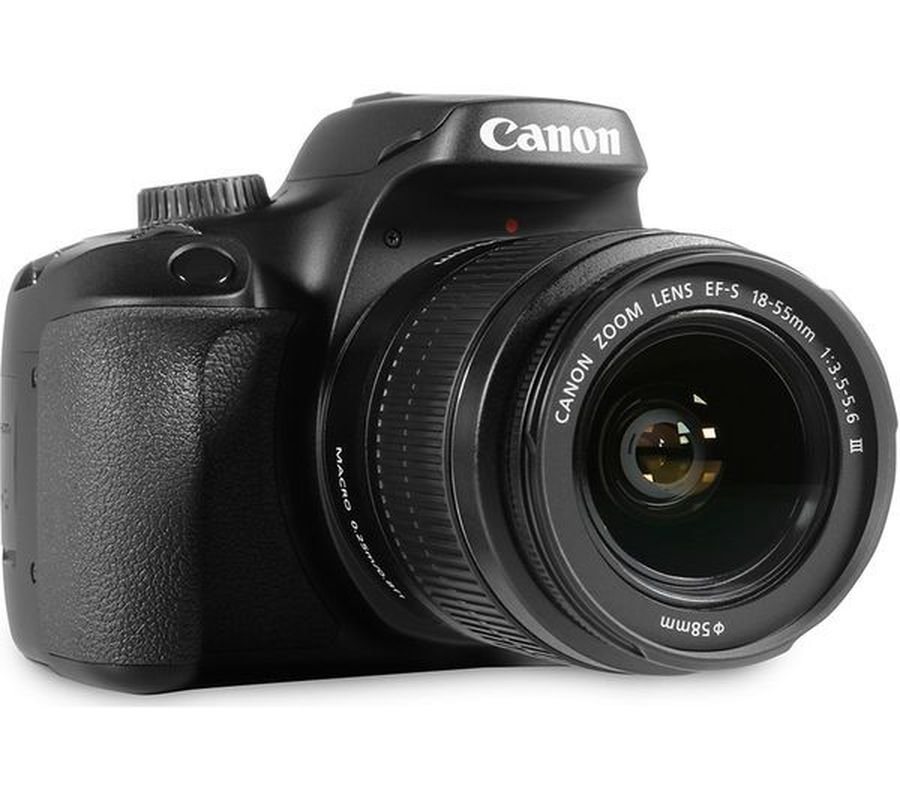 Friday
Click on the link below to play on Just Dance. Can you turn into a pirate and copy of the movements in the video?
Useful Videos
See below for useful videos to support your child's learning at home.
Tricky Word Song: Phase 2
Phase Two Sound Flashcards
Tricky Word Song: Phase 3